The Mill is the UK's biggest retail mill, with 4 huge floors of fashion, furniture, homewares and gifts at permanently discounted prices of 30% and more from high street prices. From independents to big brands and designerwear, The Mill Outlet is a unique destination... you won't find anywhere else like this!
500 free parking spaces plus dedicated coach bays.
3 restaurants to choose from, plus an Ice Cream parlour.
A department store, but with outlet prices.
Furniture & furnishings   Household & homewares
 Sport & Outdoors  Fashion & Footwear
CONGRATULATIONS!
Well done to Maria Devlin who is the winner of our £100 Gift Tree prize draw. 
 Also, congratulations to Mary Thorpe, winner of a Bistro Set in our Garden Centre prize draw.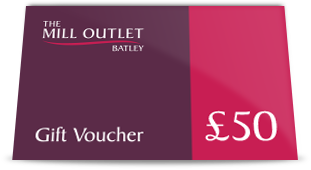 Sign up to our mailing list and be in with the chance to WIN a £50 Gift Voucher*
Simply fill out the fields below and click sign up to keep up to date with our events!